Ethiopia
ETIOPIA YIRGACHEFFE
Ethiopians refer to Yirgacheffe as a "garden coffee" because it's grown by villagers in a traditional way on small plots of land, without the use of chemicals. These plantations are shaded by native trees, and hence, the coffee is referred to as "shade-grown" coffee.
Retail Gourmet - 250 g
Special edition - 250 g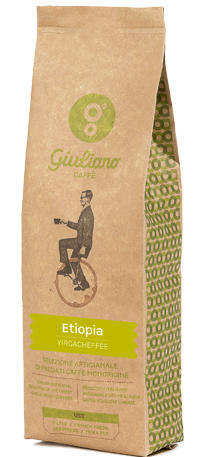 THIS COFFEE ON YOUR PALATE
Sweet, round, delicately complex and aromatic, with floral overtones. Fresh with hints of citrus, Yirgacheffe might be considered one of the world's most exceptional coffees.
"The delicate fragrance of nature"
ORIGIN
COUNTRY
Ethiopia
LOCALITY
Yirgacheffe District – South-East Ethiopia
ALTITUDE
1900 mt
CULTIVATION
Shadow Cultivation
WORK METHOD
Washed