Honduras
Central America
A coffee with personality, intense body and an inner delicacy.
Its fragrance is intense yet very refined. Sweet, creamy, round.
A perfect balance of spices and fruity fragrances which reveal themselves in your cup.
Retail gourmet - 250 g
Special edition - 250 g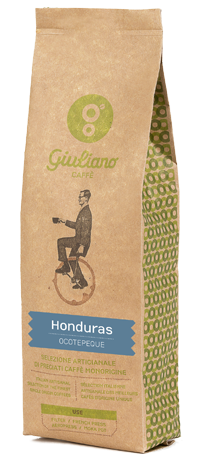 THIS COFFEE ON YOUR PALATE
Medium acidity and the flavor of mature mandarin. Subtle hints of vanilla and other spices, complemented with a touch of dark cocoa and caramelized orange peel.
THIS COFFEE IN YOUR CUP
Body
pronounced but delicate
"The pure spirit of Central America"
ORIGIN
COUNTRY
Honduras
REGION
Copan (ihcafe)
LOCALITY
El Comedero
ALTITUDE
1650 mt
PLANTATION
Ocotepeque – Aposento Alto
CULTIVATION
Shadow Cultivation
WORK METHOD 
Traditional washing