Indonesia
SUMATRA LINTONG RAJA BATAK
An arabica coffee produced in the North of Sumatra, West of Toba Lake.
The area is suitable for the production of high quality coffee because of its altitude, climate and the fertility of its soil.
Raja Batak means "King of Batak". The Batak are a series of ethnic groups which live in the North of Sumatra and are connected through a common language.
Retail Gourmet - 250 g
Special edition - 250 g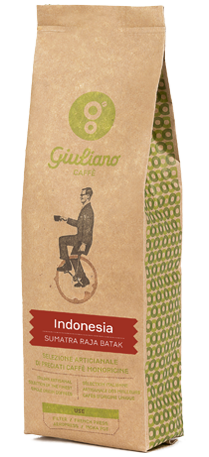 THIS COFFEE ON YOUR PALATE
Slightly acidic, with a syrupy taste and hints of dark chocolate.
"The strong essence of wind and ocean"
ORIGIN
COUNTRY
Indonesia
LOCALITY
Toba Lake
ALTITUDE
1000 – 1600 mt
WORK METHOD 
Semi-washed