Nepal
MOUNT EVEREST SUPREME
Intense and refined, a real delicacy .
A full bodied coffee wrapped in an aromatic and spicy ensemble which resembles a forest atmosphere. A perfect balance between bitter and sweet, with the right counterbalance of acidity.
Retail Gourmet - 250 g
Special edition - 250 g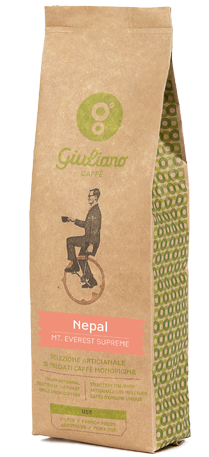 THIS COFFEE ON YOUR PALATE
Intense aromas ranging from caramel to dark cocoa and almond, with a streak of spices and rhubarb. Its aftertaste brings on memories of gentian and mountain herbs, with an almost resinous hint of mugo pine.
"The peace of the high altitudes taking form"
ORIGIN
COUNTRY
Nepal
LOCALITY
Himalaya – Nuwakot
ALTITUDE
700 mt
FARMER
Union Ramal de Santa Cruz
CULTIVATION
Shadow Cultivation
WORK METHOD 
Washed and sun-dried