Tanzania
KILIMANJARO
A plantation coffee, grown on top of the Kilimanjaro strongholds.
This coffee benefits from a special microclimate due to both the volcanic soil as well as a refreshing source of mineral water that springs near the plantation.
Retail Gourmet - 250 g
Special edition - 250 g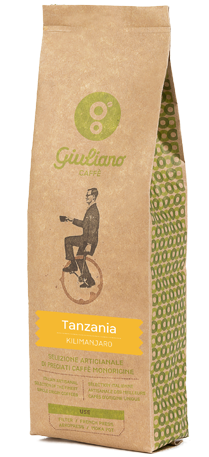 THIS COFFEE ON YOUR PALATE
A slightly sweet and sharp aroma: this coffee is lavishly textured and has fragrances of fruits and wine. One can discover hints of apricot and grapefruit and an aftertaste which is reminiscent of roasted almonds.
"The vivid plenitude of volcanic origins"
ORIGIN
COUNTRY
Tanzania
LOCALITY
Moshi-Arusha
ALTITUDE
950-1900 mt
CULTIVATION
Shadow Cultivation
WORK METHOD 
Washed