Trillo
100% COMPOSTABLE AND ORGANIC NESPRESSO COMPATIBLE*
"Compostable as the only alternative"
Consistent with the company's environmental awareness and values, Giuliano Caffè has never offered capsules.
In 2018, Trillo was created: a self-protected capsule, 100% compostable to reduce environmental impact, and compatible with Nespresso* machines.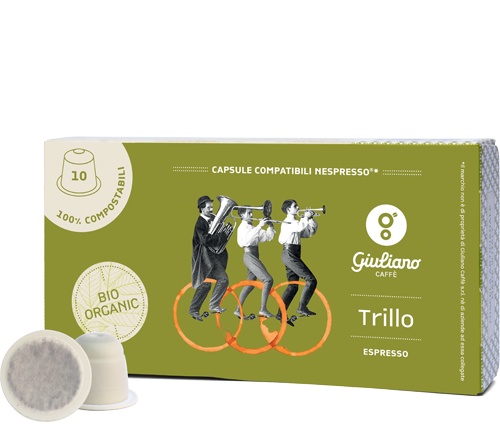 THIS COFFEE IN YOUR CUP
Cream color
Clear hazelnut
Body
Medium, suitable for any moment of the day

100% ORGANIC
The capsules contain a blend of selected organic coffee for a delicate cup of espresso that is rich in body, leaving notes of mature, red fruits and an aftertaste of dark cocoa.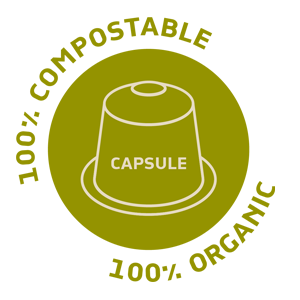 100% COMPOSTABLE: MINIMUM ENVIRONMENTAL IMPACT
A compostable and self-protected capsule doesn't need other packaging and therefore has a minimum environmental impact. The capsules can be put in the compost and the box in the paper recycling.

100% ARTISANAL QUALITY
Artisanal quality is guaranteed by an attentive/careful selection of the best raw coffees, a production in limited lots and an artisanal roasting accordingly to the Giuliano family recipe.
THE FLOW OF OUR CAPSULE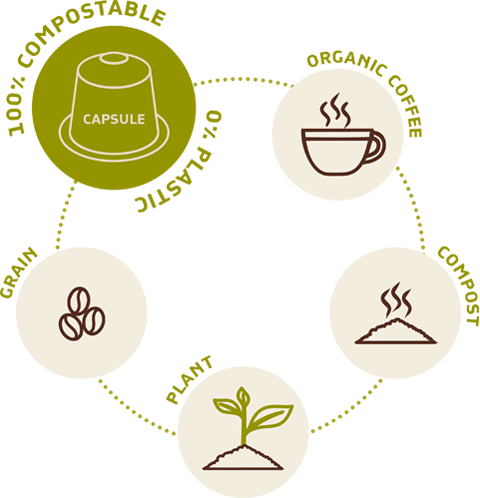 *This brand does not belong to Giuliano Caffè nor to any of its affiliated company.